For homeowners, property walkthroughs are the best opportunities to ensure that everything is in proper working order in their home. It is a crucial preventative maintenance step and we encourage investors to take maximum advantage of this. 
Property Walkthrough – What It Is

Property walkthroughs are simply the act of thoroughly inspecting the property for any cosmetic and foundational issues of the home. Not only is it a crucial step before the closing transaction during the home buying process (to ensure that all repairs and maintenance are complete and that the home is in top shape), but regular quarterly or bi-annual property walkthroughs also assist in maintaining the long-term health of the home. 
During the home-buying (or investment-buying) process, walkthroughs can help identify weak spots in the house, at which point the agent can ask the current owner to fix the issue/s before the sale completes. On the other hand, if you already own the home or investment property, it is essential that the landlord or your property manager perform the walkthroughs. This will be the time to make note of any issue/s that your tenant may have failed to report, which if not proactively cared for, could wind up with unexpected and even more costly repairs down the line.
No one likes to move into a home or live in a home that will become a liability, instead of a convenience. And certainly no homeowner likes to pay more for property repairs than is necessary. That's why routine walkthroughs and preventative maintenance are incredibly important.
The Importance of Routine Preventative Maintenance 

What is Routine Preventative Maintenance? 

Part of homeownership or investment ownership is conducting preventative maintenance on a routine basis. The ultimate objective of performing maintenance practices for your property is to improve the safety and functionality of your structure. This also includes timely repairs of all the equipment/appliances inside, as well the plumbing, wiring and other details.
With planned preventive maintenance as a vital part of your property management, you can rest assured of the maximized life of your real estate and optimal functionality. Mitigate your chances of suffering unexpected and unpleasant malfunctioning or major breakdowns in future, and protect yourself from financial setbacks. 
A successful preventative maintenance plan involves the cooperation of several parties. You must ensure that you partner with maintenance professionals who work with a qualified, licensed and insured service provider. Taking care of your property is not the time to find the "best deal" – rather you should search for the most qualified and reliable.
Professional teams will work in unison, relying on each other's expertise, knowledge, contributions and ideas for maintaining your property's overall health. 
How Often Should Routine Maintenance and Property Walkthroughs Be Done?

Every property type is different and it is up to the owner to design a routine maintenance plan that's most suitable. In most cases, we believe following a time-based strategy is the best course of action. 
Hence, designing a maintenance schedule on a monthly, bi-annual or annual basis would be beneficial. As for maintaining the equipment and appliances in your property, a good rule of thumb is to comply with the manufacturer's instructions. 
Of course, it is not obligatory for you to follow the manufacturer's instructions. You may wish to design your own maintenance schedule too. All you should do is make sure it serves to optimize the life and functionality of your equipment. And always consider the major utilities, structure, equipment, appliances and technology you depend on. 
If you're just not sure where or how to start, know that you're not alone. Lean on the professionals that do this work day and night. Reach out to your property manager or your trusted service providers to inquire about the best routine maintenance procedures. They can most certainly guide you down the right path.
Property Walkthrough Provided by Property Managers

If you've hired a professional property management team to manage the day-to-day operations of your investment property, then you can rest easy knowing that they have the  best interest of your property and your tenants in mind. They should coordinate with your tenants to perform quarterly or bi-annual walkthroughs of your property to notate any trouble areas. This means making a checklist of any and every repair or fault the house seems to have and initiating a maintenance request (provided by their trusted and vetted vendors) to fix the problems. 
Property managers can conduct various kinds of walkthroughs. Let's take a look at them below:
1.Initial Walkthrough (or Make-Ready): We refer to this walkthrough as a pre move-in procedure. This walkthrough takes a look at the deeper problems and not just cosmetic damages in the home to ensure it's hotel-room-ready for your tenant to move-in. The industry term is also often called the "Make-Ready." 
Your property manager/landlord should check the following:
Check all faucets

Check plumbing and lighting

Check all appliances 

Check flooring and walls

Check the landscaping

Identify potential future issues before problems arise

2. Mid-term or Seasonal Walkthrough: Property managers/landlords should conduct another walkthrough when the lease has completed half-term or based on the designed routine maintenance schedule. This one is to ensure that the tenants are meeting all the stipulations of the lease contract and also gives tenants the chance to inform property managers of any maintenance work they might need. 
3. Final Walkthrough: This can be at the end of the releasing contract for a rental property. This gives the opportunity to reevaluate any unreported home improvements that need to be completed and also check for remaining unsolved issues on the property at the end of a lease term. Doing so will allow your property manager/landlord to more accurately refund any deposit your tenant provided at the beginning of their contract.
Why it is Essential for Property Managers to Perform Walkthroughs

We emphatically stress on the importance of walkthroughs but do you ever wonder why? Here's an example that will prove the reasons to you. One of our maintenance managers recently shared his experience.
As we all know, COVID-19 restrictions had a major impact on just about everything last year, including on the property management industry and how we do business. And because of that we had to cancel physical property walkthroughs and rely on tenants to do self-guided walkthroughs to determine any repairs that might be needed. Despite everyone's best efforts, mistakes were bound to happen and things were overlooked. 
Take for example when one of our tenants complained to the manager that their water heater was leaking and required immediate inspection. 
When our maintenance manager dispatched the plumber post haste, they discovered that the water heater had actually slowly been leaking since January but the tenants never reported it; likely because they didn't really know what to look for. Unfortunately, the problem had worsened to such an extent that the need to hire a water and mildew remediation company was essential.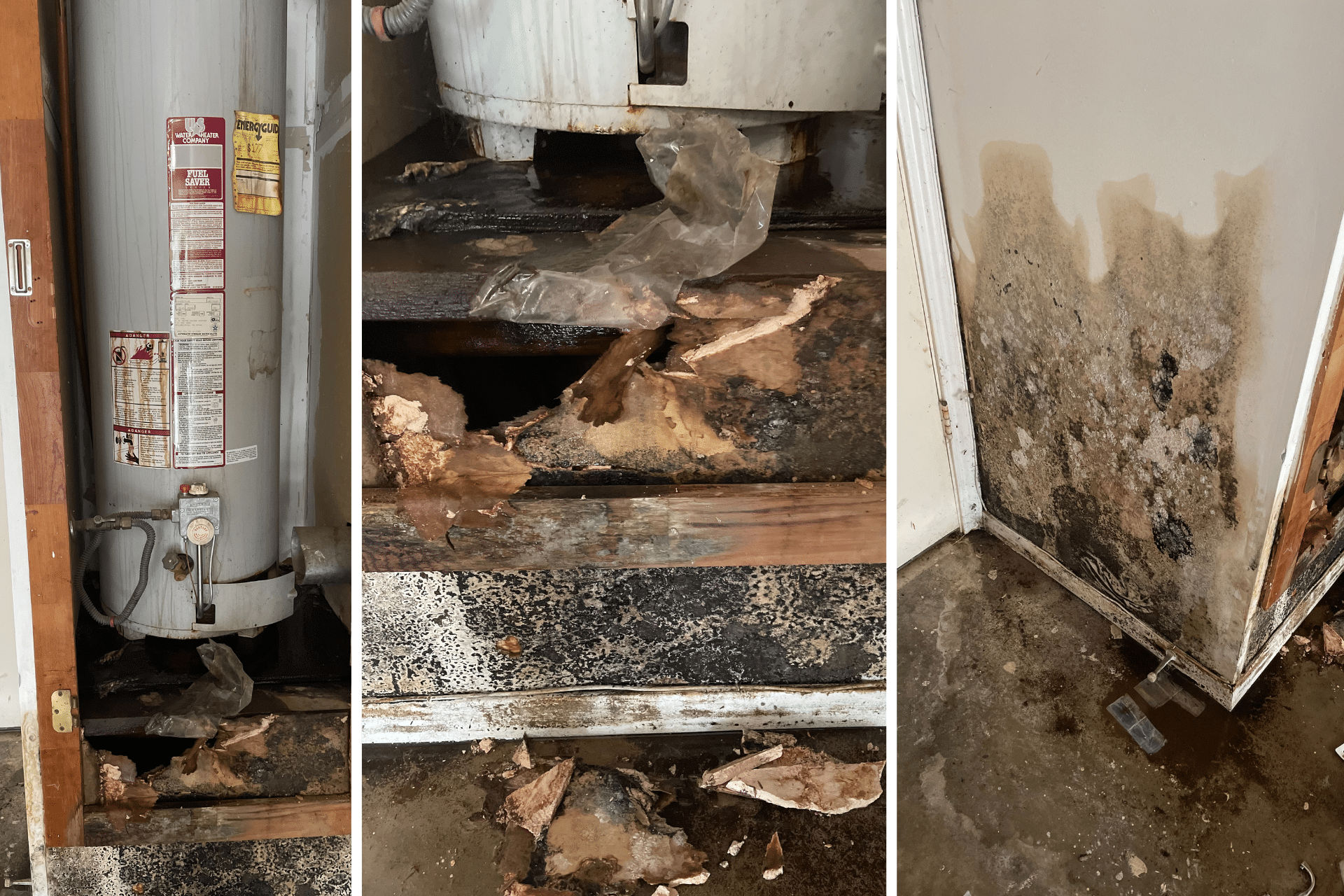 Furthermore, after fixing the problem, they also had to "build-back" what they demolished during the process. And finally, due to the amount of damage done to the water heater, the appliance had to be replaced as well. The cost for the entire project was approximately $3k to $4k in addition to replacing the heater.
The point here is that when property managers conduct walkthroughs as part of a routine maintenance procedure, they are able to catch property issues in the early stages and repair them accordingly. Time and again, this saves homeowners / investment owners thousands of dollars in the long run. 
Partner with Professionals

As a professional property management company, 1836 PM conducts a bi-annual property walkthrough of every single unit we manage in our portfolio. We ensure that your Austin property sees the least amount of difficult days as possible. With our thorough inspections and timely maintenance, we protect your real estate investments. 
With 24/7 communication assistance, excellent team support, and maintenance request and repair dispatching procedures in place, your tenants can always reach us when the need arises. 
Our ultimate goal is to reduce your larger costs in the long run and provide you with maximum cost-efficiency advantages. 
Contact us today and let us handle the nitty gritty details of managing the day-to-day operations of owning a rental property for you. Or reach us at the options below. We look forward to working with you!
Email: BDM@1836pm.com
Call: 512-994-4323
[embedyt] https://www.youtube.com/watch?v=AxkOrUZ42ng[/embedyt]
---
By: Kayla Gonzales, 1836PM Marketing Manager